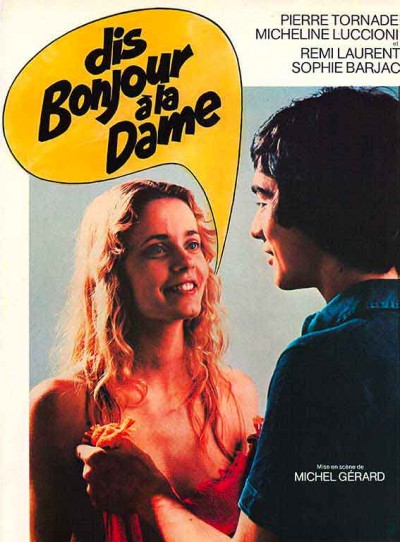 Say « hello » to the lady
de/by Michel Gérard
avec/with Pierre Tornade, Sophie Barjac, Rémi Laurent, Roger Carel, Micheline Luccioni.
1977 – Couleur/Color – 85′
production : France
Un père trouvant que son fils de 17 ans, DANIEL, passe trop de temps auprès des femmes essaye de le détourner de leur charme… si bien que celui-ci semble maintenant s'intéresser aux … garçons ; son père le pousse alors dans des bras féminins… précisément le résultat escompté par DANIEL.
A father, worried that his seventeen year old son, DANIEL spends too much time with the girls, tries to keep him away from their charms so effectively that now the latter seems to be more interested in… boys; thus his father shoves him into female arms… precisely the outcome anticipated by DANIEL.