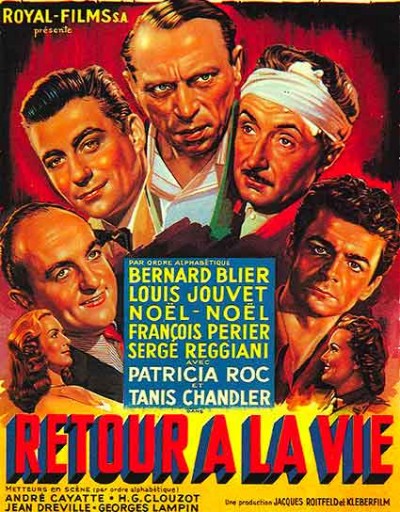 Back to life
de/by André Cayatte, Henri-Georges Clouzot, Georges Lampin, Jean Dreville.
avec/with Louis Jouvet, Bernard Blier, Noël-Noël, François Périer, Serge Réggiani.
1949 – NB/BW – 120′ –

HD
production : France
Film à sketches sur les difficultés du retour.
Cinq sketches. Des prisonniers de guerre, des déportés, de retour à la vie Leur difficile rencontre avec les choses bonnes, tristes, gaies ou inattendues qui font les jours de la vie normale.
1946 : Cinq reprises de contact avec la vie, la liberté, le coin de FRANCE où ils ont vécu, avant l'enfer. Cinq courtes histoires, tragiques ou amusantes contées par quatre metteurs en scène différents. Le film garde une force, une homogénéité peu ordinaire.
Episodical film about the difficulties of return.
1946 : Five sketches. On POW's, on the « déportés », on the return to life. Their difficult encounter with the good, sad, happy or unexpected things that form the days of normal life.
Five renewals of the contact with life, freedom, the part o FRANCE where they used to live, before passing through hell. Five short stories, tragic or amusing, told by four, different directors. The film keeps a force, an extraordinary homogeneity.