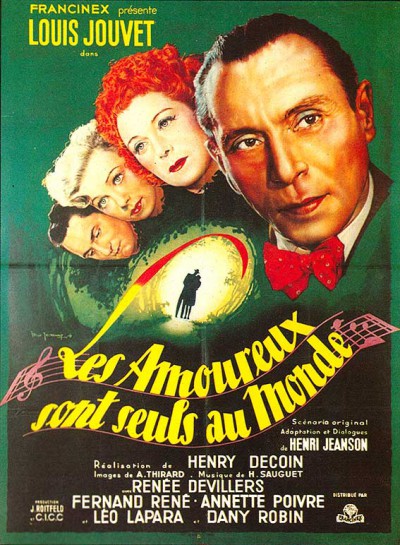 Lovers are alone in this world
de/by Henri Decoin.
avec/with Louis Jouvet, Dany Robin.
1948 – NB/BW – 106′ –

HD
production : France
GERARD FAVIER (LOUIS JOUVET), un célèbre compo­siteur, aime sa femme SYLVIA comme au premier jour. Il rencontre MONELLE (DANY ROBIN), une jeune admiratrice, dont il favorise la carrière musicale. Des ragots d'une presse à scandales font prendre conscience à MONELLE de son amour pour FAVIER, SYLVIA, qui ne veut que le bonheur de son mari, préfère céder la place. Elle se suicide alors même que celui-ci se ressaisit.
GERARD FAVIER (LOUIS JOUVET), a famous composer loves his wife SYLVIA like on the first day. He encounters MONELLE (DANY ROBIN), a young admirer, whose musical career he's patronizing. Tabloid-press gossip makes MONELLE aware of her love for FAVIER SYLVIA, who only cares for her husband's happiness, prefers to give up her place. She commits suicide just when he recovers his self-control.