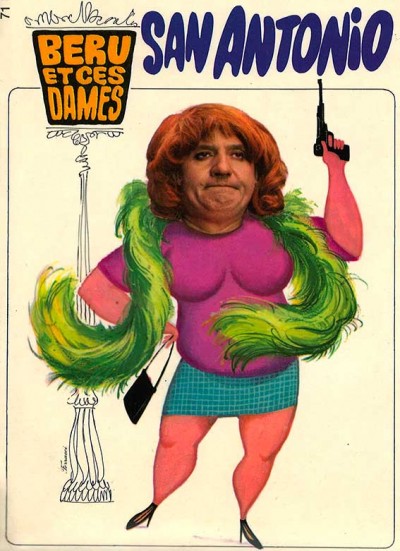 San Antonio : Béru and the dames
de/by Guy Lefranc.
avec/with Gérard Barray, Jean Richard, Paul Préboist, Marthe Mercadier, Marcel Bozzuffi, Pierre Tornade.
1968 – Couleur/Color – 95′
production : France
LA DEUXIEME AVENTURE DU CELEBRE PERSONNAGE CREE PAR FREDERIC DARD "LE COMMISSAIRE SAN ANTONIO"
L'Inspecteur BERURIER ayant hérité trois ans plus tôt d'un hôtel particulier vient réclamer le loyer à son loca­taire. Mais celui-ci est assassiné dans des circonstances mystérieuses.
Appelé à la rescousse, SAN ANTONIO découvre que l'hôtel en question abrite une maison close. Il découvre aussi une sombre histoire de vol de morphine et de dispa­rition de souches microbiennes…
THE SECOND ADVENTURE OF THE FAMOUS CHARACTER CREATED BY FREDERIC DARD « COMMISSIONER SAN ANTONIO »
Three years ago Inspector BERURIER inherited a mansion. Now he has come to see the tenant about the rent. But he finds him assassinated under mysterious circumstances. Called to the rescue, SAN ANTONIO discovers that te mansion works as a cover for a brothel. He also finds out about the obscure story of a morphine theft and the disappearance of microbic strains…