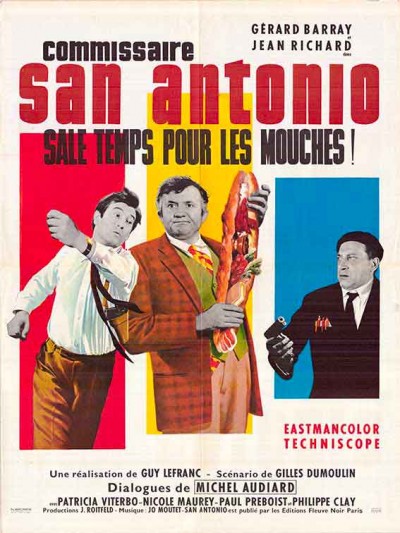 San Antonio : next time… I'll kill you
de/by Guy Lefranc.
avec/with Gérard Barray, Jean Richard, Paul Préboist, Patricia Viterbo, Philippe Clay.
1966 – Couleur/Color – 95′
production : France
PREMIERE AVENTURE DU CELEBRE PERSONNAGE CREE PAR FREDERIC DARD "LE COMMISSAIRE SAN ANTONIO »
Drôle d'épidémie chez les savants français : les uns après les autres, tous les forts en maths du pays disparaissent dans la nature. Pour le Commissaire SAN ANTONIO, une seule piste, PAUL-LE-CAID, en compagnie duquel il monte une évasion bidon. Aussitôt, il est admis dans la bande, mais un dénommé FELIX découvre qu'il n'est pas le truand annoncé. Et les ennuis commencent… pour¬suites, enlèvements, séductions et une bagarre en plein ciel pour finir.
THE FIRST ADVENTURE OF THE FAMOUS CHARACTER CREATED BY FREDERIC DARD "COMMISSIONER SAN ANTONIO »
A strange kind of epidemic is spreading among the French scientists : One after the other they disappear without a trace. For Commissioner SAN ANTONIO there is only one suspect, PAUL-LE-CAID, with whom he sets up a phony escape. Rightaway he is admitted to the gang but a certain FELIX discovers that he isn't the expected gangster. And the troubles begin… pursuits, kidnappings, seductions and fight in the sky to finish it all.