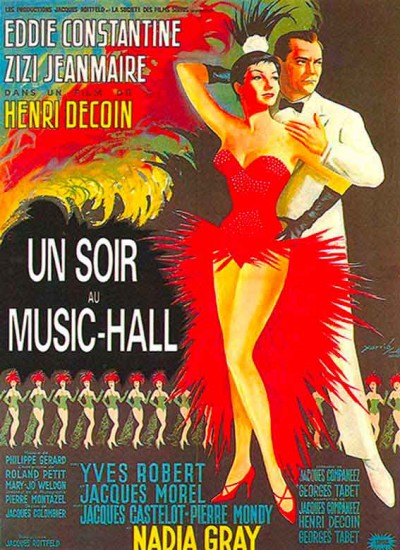 A night at the music hall
de/by Henri Decoin.
avec/with Eddie Constantine, Zizi Jeanmaire, Nadia Gray, Yves Robert, Pierre Mondy et les Ballets de Roland Petit.
1956 – Couleur/color – 100′ – HD
production : France
UN GRAND FILM MUSIC-HALL AVEC DE SOMPTUEUX BALLETS ET DES CHANSONS BRILLANTES
GI en permission à PARIS, BOB WELLINGTON (EDDIE CONSTANTINE) s'éprend follement de la danseuse CLAUDIE (ZIZI JEANMAIRE) et l'épouse II décide de rester dans la capitale et entame une carrière de chan­teur, accompagné par son ami HARRY. De retour d'une tournée en province, il soupçonne CLAUDIE d'être la maîtresse de l'imprésario LOISELET. Par dépit il séduit SUZY MORGAN, vedette des FOLIES BERGERES. Grâce à l'amitié agissante du régisseur ROGER, les jeunes gens ne tardent pas à se réconcilier et connais­sent ensemble la consécration.
A GRAND FILM OF THE MUSIC-HALL WITH SUMPTOUS BALLETS AND BRILLIANT SONGS
BOB WELLINGTON (EDDIE CONSTANTINE) a GI on leave in PARIS falls madly in love with the dancer CLAUDIE (ZIZI JEANMAIRE) and marries her. He decides to stay in the capital and to start a career as a singer accompanied by his friend HARRY. On return from a tour of the provinces, he suspects CLAUDIE of being the mistress of the impresario LOISELET. Out ot spite he seduces SUZY MORGAN, vedette of the FOLIES BERGERES. Thanks to the active friendship of the stage manager ROGER, the young people won't take long to reconciliate and together they find consecration.